Cove DW2450 Dishwasher Review (2023): Is it Worth the Hype?
Some of the links in this post are affiliate links, meaning, at no additional cost to you, We will earn a commission if you click through and make a purchase.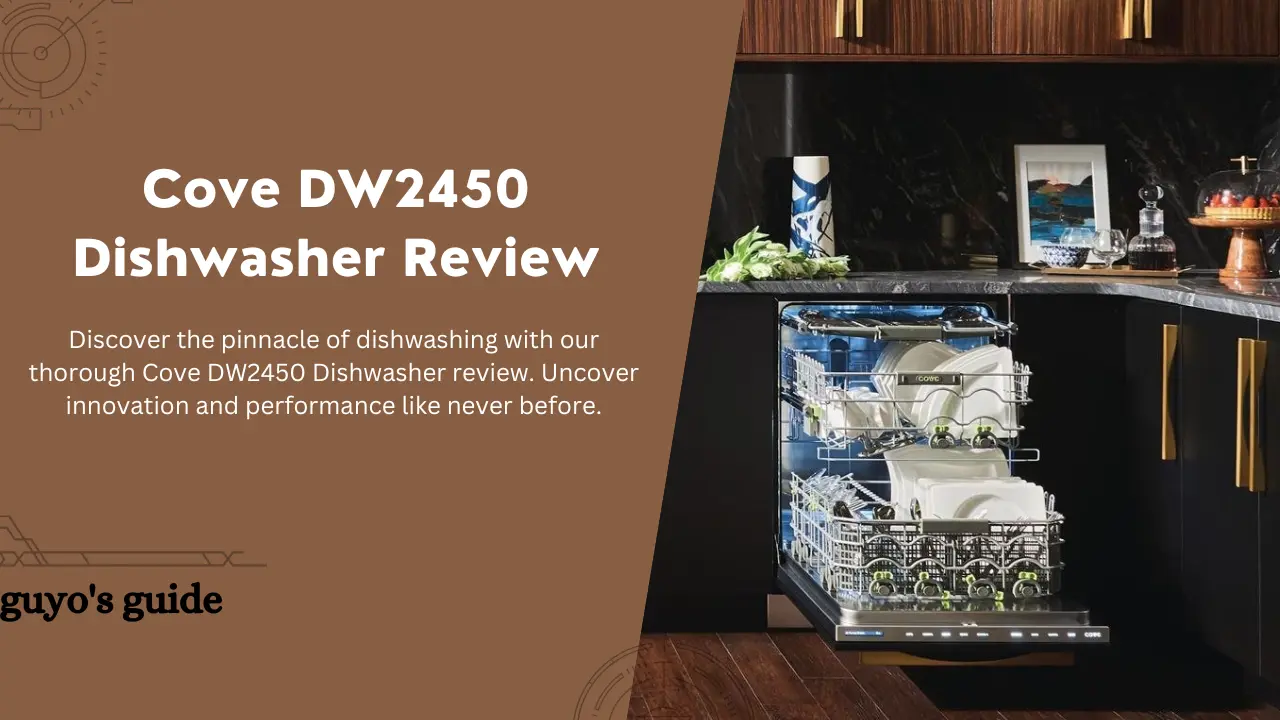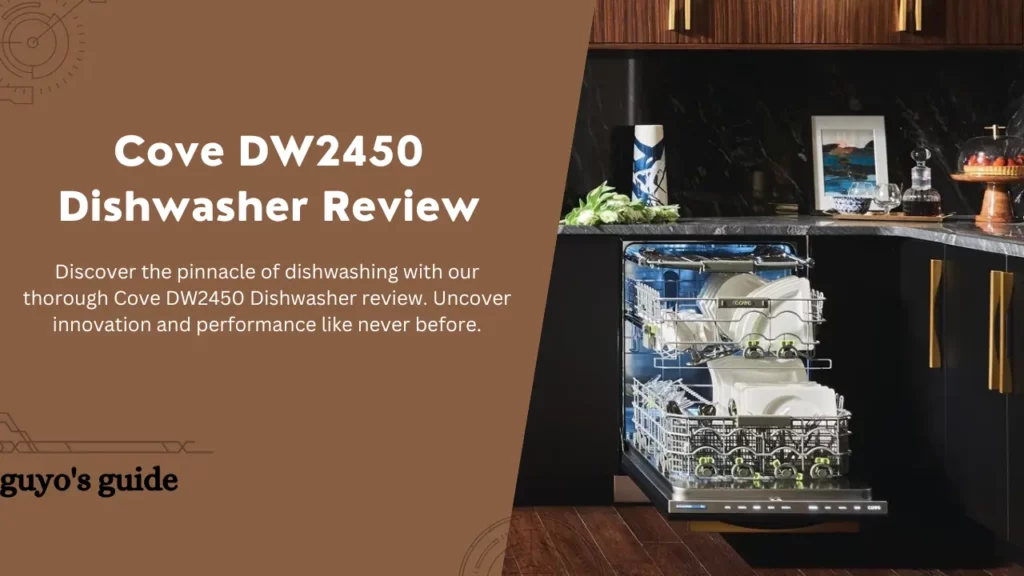 The Cove DW2450 dishwasher is a highly efficient and reliable appliance that deserves attention.
In this comprehensive review, we will delve into its advanced features, pricing, pros, cons and much more.
Whether you're a homeowner or a professional in the market for a top-of-the-line dishwasher, this blog post will provide you with all the necessary information to make an informed decision.
Let's explore the Cove DW2450 dishwasher and discover why it stands out from the competition.
Features of The Cove DW2450 Dishwasher
Here are the features of the Cove DW2450 dishwasher:
Superior Cleaning Performance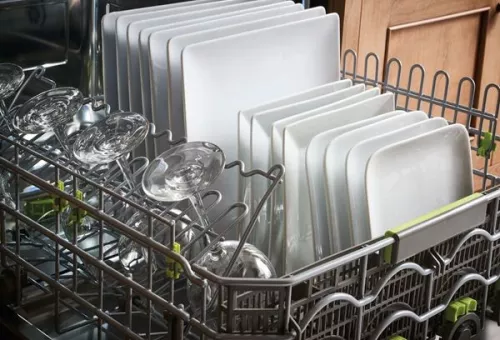 Cove dishwashers are meticulously crafted to achieve an elevated cleaning standard. They are designed to ensure that every dish and utensil, including plastic containers, heavy saucepans, wire whisks, and delicate china plates, comes out flawlessly clean and dry.
Size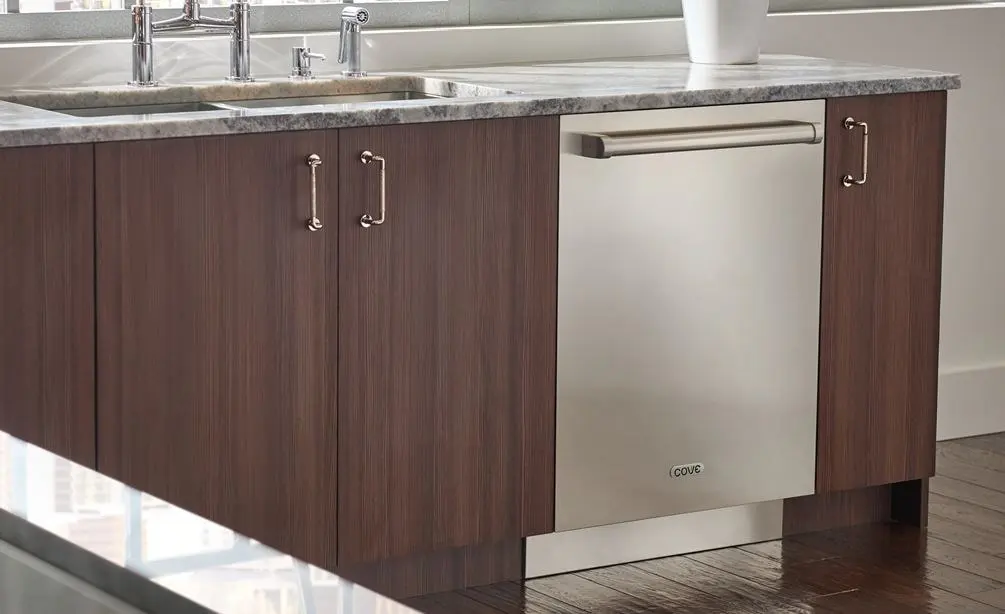 The dishwasher has a 24-inch width, making it suitable for compact kitchen spaces.
Adjustable Interiors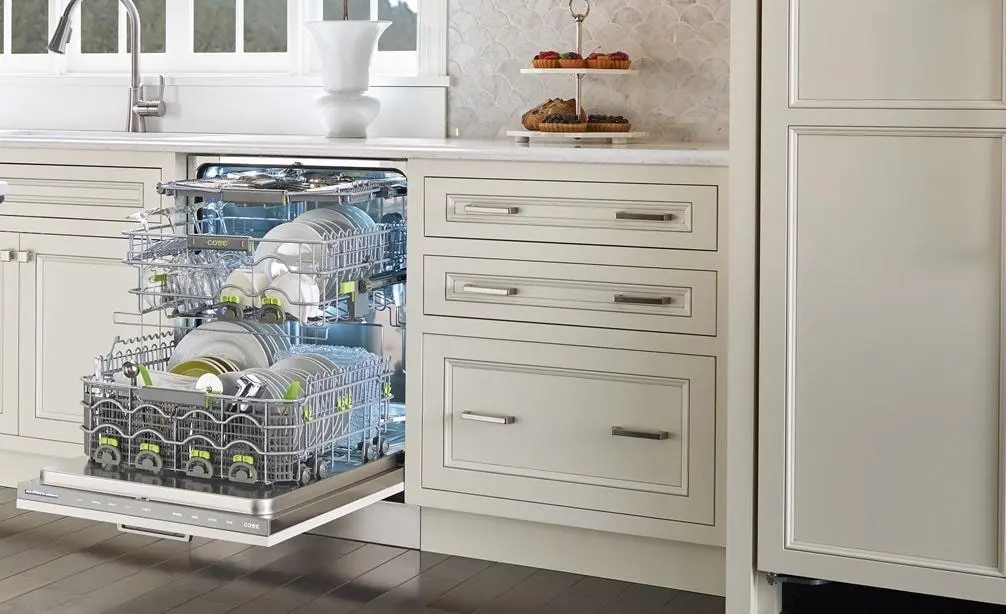 The dishwasher features adjustable interiors, allowing you to customize the space to accommodate different sizes and types of dishes. The height-adjustable middle rack and fold-down tines can fit any size or combination of dishes, ensuring that even delicate items like wine glasses and china plates are safely cradled and cleaned.
12 Wash Cycles
Choose from a variety of wash cycles to suit your specific needs. The available wash cycles include Auto, Normal, Heavy, Quick, Pots and Pans, Soak and Scrub, Light, China/Crystal, Rinse/Hold, Plastics, Energy, and Extra Quiet.
Third Rack
The dishwasher has a third rack specifically designed for silverware and utensils. This upper silverware rack maximizes the space and allows for efficient cleaning.
Near-Silent Operation
With a silence rating of 41 dBA, the dishwasher operates quietly, ensuring it never interrupts your daily activities.
Customizable Exterior Finishes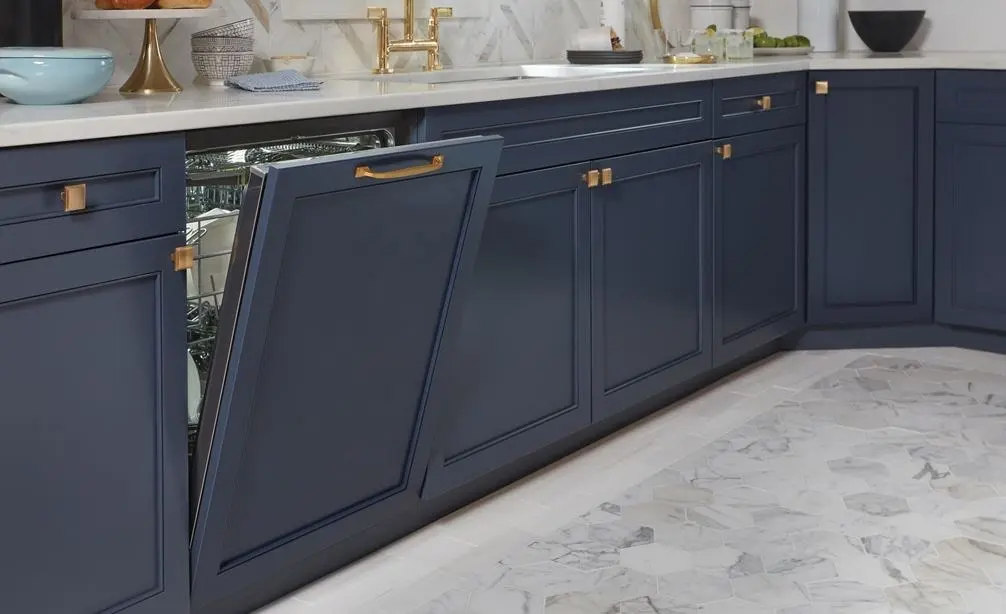 The dishwasher offers customizable exterior finishes, allowing you to match it with your kitchen decor. Stainless steel accessory panels are available for 60cm and 24″ openings, and you can choose between 4″ or 6″ toekicks and pro or tubular handles.
Smart Technology
Being a smart dishwasher, it likely includes advanced features such as Wi-Fi connectivity and smartphone compatibility. These features enable you to control and monitor the dishwasher remotely, adjust settings, and receive notifications about the cleaning progress.
Child Lock
The dishwasher includes a child lock feature, which prevents unwanted operation of the control panel. Even after a power outage, the lock feature remains active.
Sabbath Mode
The dishwasher is equipped with a Sabbath mode, allowing it to comply with Sabbath observance requirements.
Status Light
A status light provides a visual indication of the dishwasher's operation, making it easy to know the current status of the cleaning cycle.
Interior Light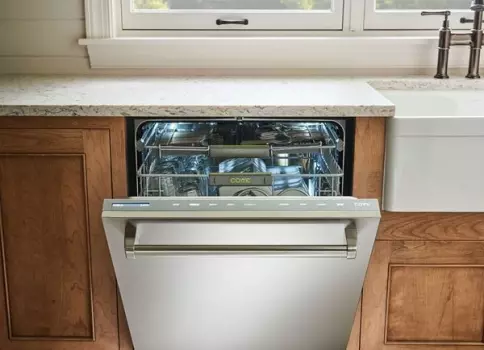 An interior light illuminates the dishwasher's interior, making loading and unloading dishes easier, especially in low-light conditions.
NSF-Certified Sani Rinse
The dishwasher offers an NSF-certified Sani Rinse option, which ensures that the dishes are thoroughly sanitized and free from bacteria and germs.
Delay Start
The dishwasher features a delay start function, allowing you to schedule the start of a cleaning cycle at a later time.
Energy Efficient
The dishwasher includes energy-saving features to help conserve electricity and water during operation.
Warranty
The dishwasher comes with a comprehensive warranty. The parts and labor are covered for five years, and there is a limited lifetime warranty on parts.
Pricing
At the time of publishing, this dishwasher cost:
What We Like
Built-in installation for a seamless and integrated look.
Cutlery tray in the upper basket for organized silverware and utensils.
Height-adjustable middle basket for accommodating larger items.
Smart connectivity for remote control and monitoring.
Near-silent operation for a peaceful kitchen environment.
Comprehensive warranty coverage for parts and labor.
What We Dislike
It may be challenging to find in certain regions or stores.
Limited availability or compatibility with certain kitchen setups or designs.
Setting up and navigating the smart features may take much work for some users.
High-end and comes with a premium cost.
The need for professional installation due to built-in design.
Related Cove Dishwasher
Presented below are additional affiliated Cove dishwashers. Please bear in mind that the pricing for these dishwashers is available upon request.
---
Cove DW2450WS Dishwasher
Price upon request
---
Cove DW2450 Dishwasher Maintenance Tips
Proper maintenance is key to ensuring your Cove Dishwasher's optimal performance and longevity. To keep your Cove Dishwasher operating at its best, regular maintenance is essential. Follow these guidelines to maintain its performance and extend its lifespan:
1. Regular Cleaning
Wipe down the dishwasher's interior regularly to remove food particles and residue. Pay attention to the walls, racks, and spray arms. Clean the filter as instructed by the manufacturer, rinsing it thoroughly before reinstalling. Keep the dishwasher door gasket clean by wiping it with a damp cloth to prevent buildup.
2. Vinegar Rinse
Occasionally run a vinegar rinse cycle to eliminate mineral deposits and odors. Place a cup of white vinegar on the top rack and run a hot water cycle without any dishes. This helps maintain the dishwasher's performance and freshness.
3. Proper Loading and Unloading
Follow the manufacturer's guidelines for loading the dishwasher for optimal water circulation and effective cleaning. Avoid overloading, as it can hinder performance. When unloading, wait for the dishes to cool to prevent potential damage and ensure safety.
4. Recommended Detergents
Use dishwasher detergents specifically recommended by Cove or those designed for use in Cove Dishwashers. For optimal results, adhere to the instructions provided on the detergent packaging. Avoid excessive amounts, as it can lead to residue buildup or a film on your dishes.
5. Check the Water Supply
Regularly inspect the water supply to ensure it is uninterrupted and free from blockages. Check the water inlet valve and hoses for any leaks or damage. If you encounter any issues, seek professional assistance.
6. Address Issues Promptly
If you notice problems such as unusual noises, leaks, or error codes, refer to the user manual or contact Cove's customer support for guidance. Addressing issues promptly can prevent further damage and help maintain optimal dishwasher performance.
FAQs
How does Cove ensure superior cleaning performance?
Cove dishwashers are designed with advanced features like targeted wash zones, powerful jets, and customizable wash cycles to clean all types of dishes and utensils thoroughly.
Can the dishwasher accommodate large or oddly-shaped items?
Yes, Cove dishwashers offer adjustable interiors with height-adjustable racks and fold-down tines, allowing you to create space for larger or uniquely shaped items like wine glasses, pots, and pans.
Can I integrate Cove dishwashers with other Sub-Zero and Wolf appliances?
Yes, Cove dishwashers can be paired with Sub-Zero and Wolf products by using stainless steel accessory panels available for different opening sizes, toekicks, and handle styles.
How quiet are Cove dishwashers during operation?
Cove dishwashers operate near-silent, with a 41decibel rating, ensuring minimal noise disturbance in your kitchen or living space.
Wrap Up
Cove dishwashers offer exceptional cleaning performance and a commitment to quality. With their thoughtful design and engineering, Cove Appliances set a higher standard for dish cleanliness.
Upgrade your kitchen with Cove and enjoy spotlessly clean dishes every time. Cove dishwashers provide a reliable and efficient cleaning experience with a range of wash cycles and near-silent operation.
While they may come at a higher price point, Cove's dedication to durability and comprehensive warranty coverage ensures a worthwhile investment.
Experience the difference with Cove and elevate your dishwashing routine to a new level of excellence.