8 Best Outdoor Electric Grills of 2023 (Ranked and Reviewed)
Some of the links in this post are affiliate links, meaning, at no additional cost to you, We will earn a commission if you click through and make a purchase.
In this article, we'll explore the top best outdoor electric grills, showcasing their features, performance, and overall value. 
Whether you're a seasoned grilling enthusiast or a beginner looking to embrace the art of barbecuing, these electric grills will ignite your passion for outdoor cooking.
Let's get started.
What is The Best Outdoor Electric grill?
Here are our top picks of the best outdoor electric grills that you can consider purchasing this year:
Best Overall Outdoor Electric Grill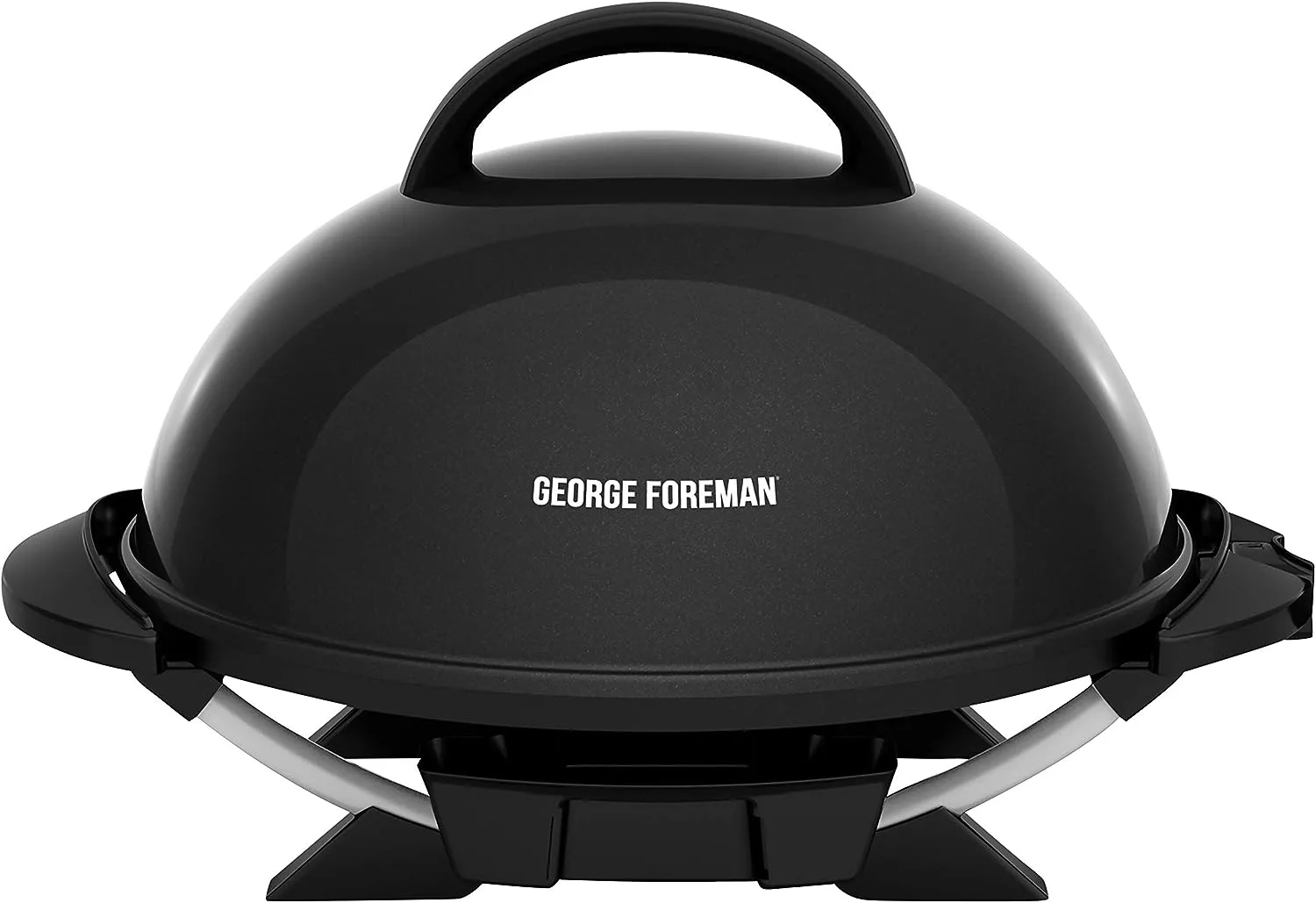 The George Foreman Outdoor Electric Grill redefines outdoor cooking with its exceptional functionality and convenience.
This versatile grill caters to various spaces, from expansive patios to compact balconies.
With its innovative design and superior performance, this grill allows you to savor the authentic flavors of outdoor grilling without the hassle of traditional charcoal or propane setups.
Elevate your outdoor cooking experience with the George Foreman Outdoor Electric Grill and indulge in delicious meals easily.
Features
The durable nonstick coating makes cooking and cleaning a breeze, eliminating the need for excess oil or butter.
The grill comes with an easy-to-remove stand, allowing you to seamlessly transition from outdoor grilling on the patio to countertop grilling indoors.
With five heat settings, you have precise control over the grill's temperature, ensuring optimal results for various types of food.
This fully electric grill is perfect for apartments or places with charcoal or propane usage restrictions, offering high-quality grilling without flare-ups.
The sloped grilling surface aids in eliminating up to 42% of fat from your food, guaranteeing healthier and more flavorful meals.
With the ability to accommodate over 15 servings of food, you can easily grill for a crowd.
This grill is skillfully designed to offer indoor and outdoor grilling versatility.
The grill's design promotes even heat distribution, ensuring consistent and thorough cooking.
The grill's compact size makes it easy to store and transport, perfect for any outdoor adventure.
Pricing
At the time of publishing, this electric grill cost:
What We Like/Dislike
Like
The removable stand allows for seamless transitions between outdoor and countertop grilling.
Adjustable temperature control for flexibility in achieving desired cooking results.
The fat-removing slope contributes to healthier meals.
Large cooking capacity ideal for serving a crowd.
Versatile design that accommodates both indoor and outdoor use.
Dishwasher-safe drip tray ensures effortless cleanup.
Dislike:
Limited temperature range may hinder achieving higher heat levels for specific cooking techniques.
Best Value Outdoor Electric Grill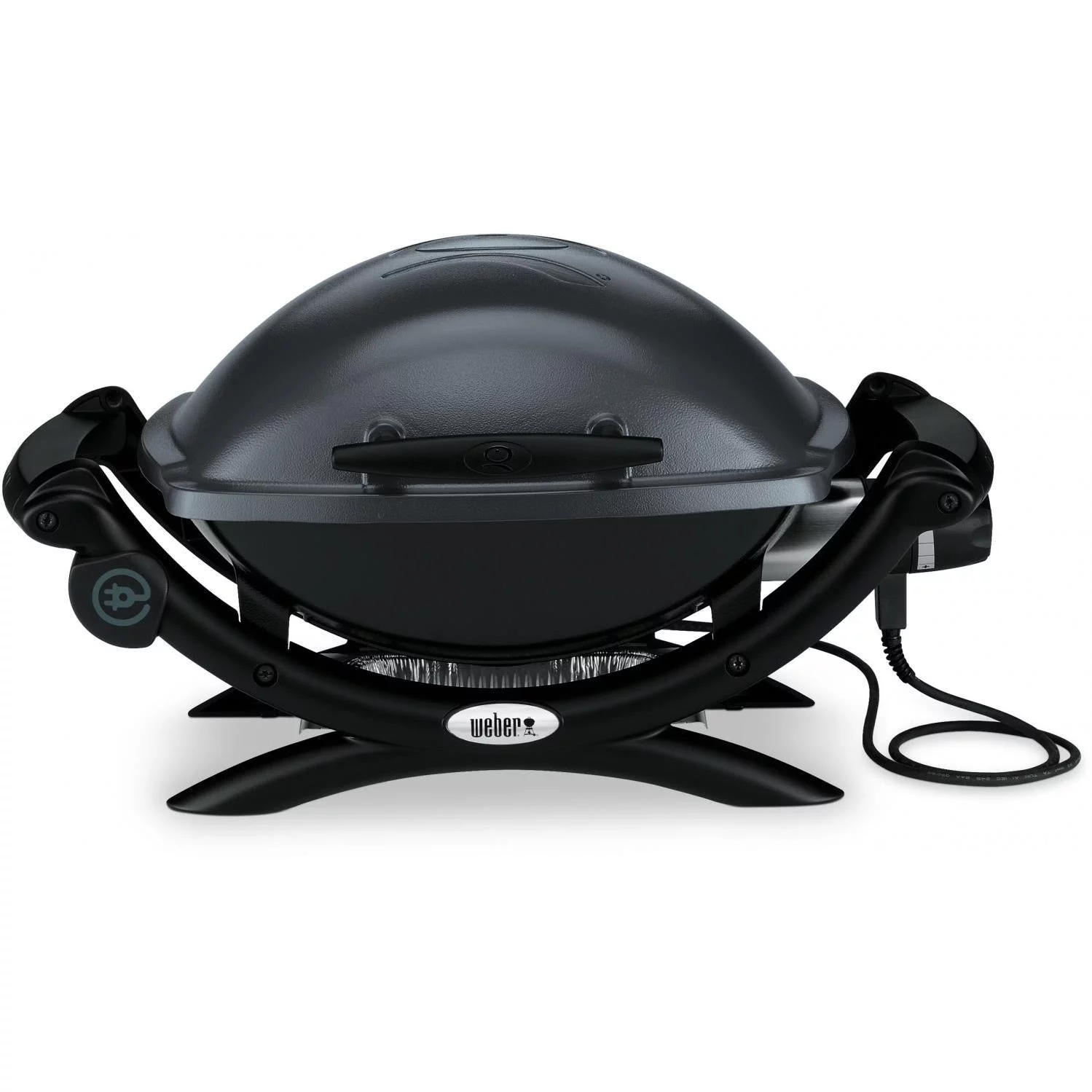 The Weber Q1400 Electric Grill takes outdoor grilling to the next level with its exceptional performance and sleek design.
This electric grill delivers authentic grilled flavors without compromising on taste, perfect for those living in condos or places with gas or charcoal grill restrictions.
With its spacious cooking area and convenient features, the Weber Q1400 Electric Grill is a go-to choice for grilling enthusiasts seeking both convenience and exceptional results.
Features
560-watt electric heating element for efficient and even cooking.
Porcelain-enameled cast-iron cooking grates for excellent heat retention and easy cleanup.
Cast aluminum lid and body for durability and heat retention.
Infinite control burner valve settings for precise heat control.
Arrives fully assembled out of the box, ready for immediate use.
Removable catch pan for easy grease management.
Compact and portable design, ideal for small spaces and on-the-go grilling.
6-foot grounded cord for convenient power supply.
Pricing
At the time of publishing, this electric grill cost:
What We Like/Dislike
Like:
The small and easily transportable design makes it ideal for cramped areas.
The fully assembled grill allows for immediate use.
The removable catch pan makes cleanup hassle-free.
The infinite control burner valve settings offer precise temperature control.
Dislike:
The grill's temperature control may be less precise compared to other grills.
The cooking area is smaller than expected.
The grill's reliance on electricity means it requires a power source, which may be limiting for outdoor locations without easy access to electricity.
Best Portable Outdoor Electric Grill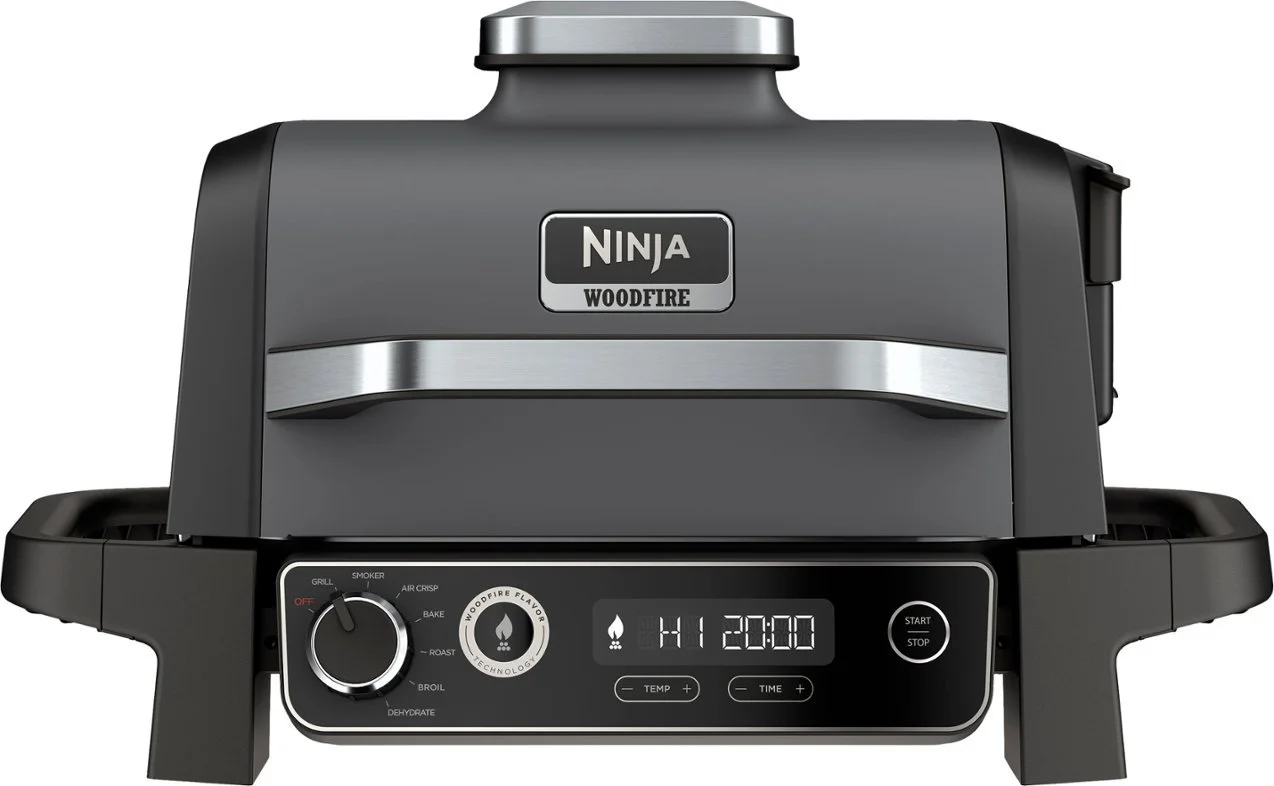 The Ninja OG701 Woodfire Outdoor Grill & Smoker is a powerful and versatile outdoor cooking appliance that provides the ultimate woodfire flavor experience.
This electric grill combines the functionalities of a grill, BBQ smoker, and air fryer, allowing you to create delicious meals easily. Its compact design and weather-resistant construction make it suitable for any outdoor cooking setting.
With the Ninja OG701, you can enjoy the rich and authentic taste of woodfire cooking year-round.
Features
This appliance combines the functionality of a grill, BBQ smoker, and air fryer, allowing you to cook various dishes with 100% natural woodfire flavor.
Despite its compact size, this grill delivers the performance of a full-size propane grill, providing charred and seared results.
With just half a cup of wood pellets, you can easily create authentic BBQ bark and flavor, making the smoking process fast and hassle-free.
This grill lets you add woodfire flavor to your favorite air-fried dishes and conveniently cook all your side dishes outdoors.
Powered by electricity and flavored by real burning wood pellets, this technology allows you to achieve rich woodfire flavor in your cooking. The woodfire flavor is visible and adds depth to the taste of your food.
The grill comes with two blends of 100% natural hardwood Ninja Woodfire Pellets that enhance the flavor of your food. These pellets are used for flavor, not as fuel, so you only need to use half a cup for each cooking session.
Designed to withstand outdoor conditions, you can cook and store your grill outside year-round without worrying about damage from the elements.
As an electric grill, it does not require charcoal or propane or produce flare-ups, making it suitable for use in apartments or places where open flame grills are not allowed.
Despite its compact size, the grill offers ample cooking space. You can grill up to six steaks or 30 hot dogs, air fry up to 3 lbs of wings, or BBQ smoke a 9-lb whole brisket, allowing you to cater to large groups.
The grill comes with several accessories, including a 141-square-inch nonstick grill grate, a crisper basket, a pellet scoop, Ninja Woodfire Pellets in robust blend and all-purpose blend starter packs, and a quick start guide with 15 recipes to help you get started with your outdoor cooking adventures.
Pricing
At the time of publishing, this electric grill cost:
What We Like/Dislike
Like:
Versatile 3-in-1 functionality (grill, BBQ smoker, air fryer).
Woodfire Technology for authentic woodfire flavor.
Foolproof BBQ smoking with minimal pellets.
Weather-resistant for year-round use.
Dislike:
The grill's corded electric power source may restrict its portability compared to other fuel-based grills.
The stand is sold separately.
Best Outdoor Electric Grill for Patios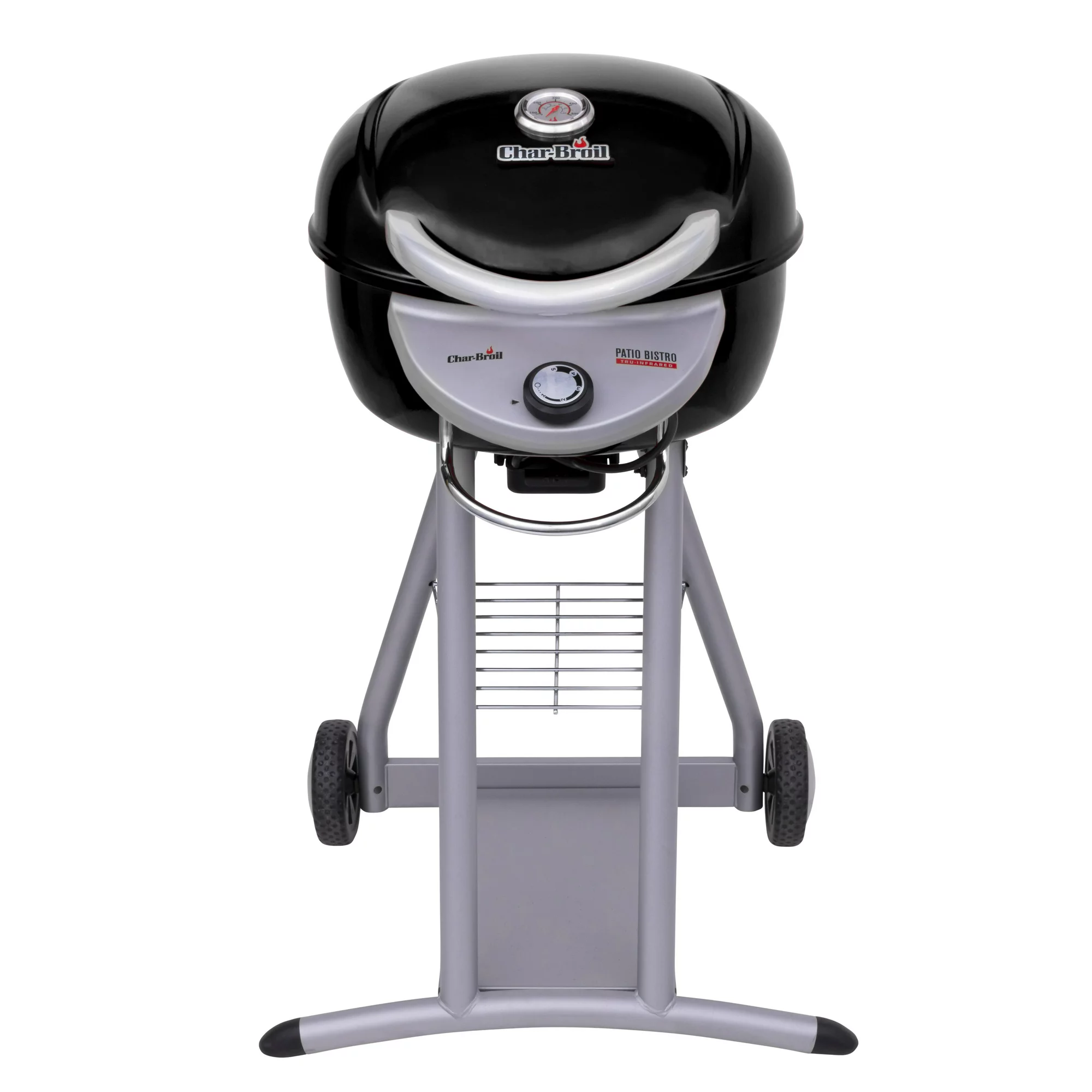 The Char-Broil 20602107 Patio Bistro TRU-Infrared Electric Grill is a convenient and hassle-free way to enjoy grilling. Its electric-powered design offers high-quality grilling without the need for gas or charcoal.
The grill features a durable porcelain-coated grate, an integrated control knob for easy temperature adjustment, and a removable warming rack.
The compact size of this item is ideal for smaller spaces, but it still offers a generous amount of cooking space.
Features
This grill utilizes TRU-Infrared cooking technology to prevent flare-ups, deliver even heat distribution, and cook food more juicily.
With this electric grill, you can enjoy the convenience of grilling without gas or charcoal, making it easy to use and operate.
The cooking grate is made of durable porcelain coating, which is rust-resistant and easy to clean, ensuring long-lasting performance.
The grill is equipped with an integrated control knob, enabling easy temperature adjustment according to your grilling needs.
The removable warming rack provides additional cooking space for indirect cooking or keeping food warm. It can be easily removed when not in use or to accommodate larger items on the primary grilling surface.
This grill has a generous cooking area of 320 square inches, including a primary cooking area of 240 square inches, and a removable warming rack with an additional 120 square inches. This allows plenty of room to cook multiple items simultaneously, such as up to 12 burgers or various other foods.
The lid-mounted temperature gauge allows easy monitoring and precise heat control while grilling.
The pull-out grease tray makes cleaning up after grilling a breeze. It is easily accessible and helps in disposing of drippings and excess grease.
The Char-Broil Patio Bistro Electric Grill is designed to be compact, making it suitable for smaller outdoor spaces like patios or balconies. It also features a front handle for easy mobility.
The grill is built with quality materials and craftsmanship to ensure durability and long-lasting performance.
Pricing
At the time of publishing, this electric grill cost:
What We Like/Dislike
Like:
TRU-Infrared cooking technology for even heat and juicier food.
Durable and easy-to-clean porcelain-coated grate.
Removable warming rack for indirect cooking or keeping food warm.
Integrated control knob for easy temperature adjustment.
Dislike:
The total cooking space of 320 square inches may not be sufficient for larger gatherings or cooking larger quantities of food.
The product requires assembly, which may be time-consuming and challenging for some users.
Best Temperature Control Outdoor Electric Grill
The Kenyon B70082 Floridian Electric Grill is a high-quality, stainless steel tabletop grill designed for those living in areas where gas or charcoal grills are restricted.
With its powerful heating capabilities and versatile use, this grill offers a convenient and efficient grilling solution.
Its sleek and durable design and ability to reach high temperatures quickly make it a reliable choice for grilling enthusiasts.
Features
The grill can reach temperatures of 600°F+ within 10 minutes, allowing for quick and efficient grilling.
The 1300W element comes in direct contact with the cooking surface, ensuring efficient heat transfer and even cooking.
The grill is UL-approved for both indoor and outdoor use, providing versatility in its placement and allowing for grilling in various settings
Cleaning up after using the grill is made easy and convenient with a dishwasher-safe grill grate and lid.
Made from 304-grade stainless steel, the grill is built to be durable and rust-resistant, ensuring long-lasting performance.
Its tabletop design and compact size make the grill portable and easy to transport, making it suitable for picnics, camping trips, and other outdoor activities.
Optional accessories include a stainless steel cart for freestanding capabilities, a flat-top griddle, a durable fabric cover for protection, and high-temperature-rated nylon grill utensils.
Pricing
At the time of publishing, this electric grill cost:
What We Like/Dislike
Like:
Rapid heating to temperatures of 600°F+ in 10 minutes.
Versatile indoor and outdoor use, approved by UL.
Dishwasher-safe grill grate and lid for easy cleaning.
Durable stainless steel construction for longevity.
Compact and portable design for convenience
Dislike:
Limited cooking space.
Bulkier and requires more storage space in cabinets and on countertops.
Best Outdoor Electric Grill for Small Spaces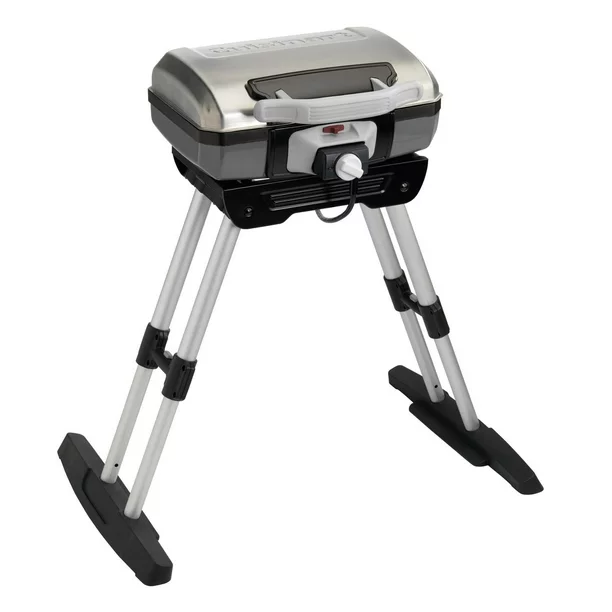 The Cuisinart CEG-980 Outdoor Electric Grill provides a convenient and compact solution for individuals who desire the flavors of grilled food but face limitations in using gas or charcoal grills.
With its portable design and quick heat-up time, this electric grill is perfect for small spaces like balconies and patios.
It provides ample cooking space and delivers deliciously grilled meals for family gatherings or outdoor parties.
Features
This grill is contracted to be compact and portable, making it effortless to carry and transport from one place to another. It comes with a remarkable briefcase-style handle for easy grip and weighs only 17 pounds.
Despite its compact size, the grill provides a 145-square-inch grilling area, which is large enough to cook for a family. This grill can hold 8 steaks, 6 to 10 chicken breasts, or 4 pounds of fish all at once.
The grill features a telescoping stand with a 3-position adjustment, allowing you to set it up at a comfortable grilling height easily. The stand can be collapsed and folded beneath the grill for convenient storage.
The grill has a powerful 1,500-watt heating element, providing quick and even heating. It has a porcelain-enameled coated grill grate that ensures efficient grilling and easy cleanup.
The grill operates on electric power and plugs into a standard electric outlet. This makes it a suitable option for places where gas or charcoal grills are prohibited.
The grill comes ready to use, with no assembly required. Thanks to its versatile design and folding stand, it can be set up and packed away in seconds. It also includes a lid latch and spill-resistant drip tray for added convenience.
The Cuisinart Outdoor Electric Grill suits various outdoor spaces, including balconies, patios, decks, RVs, and more. It offers a convenient grilling solution for those who cannot use charcoal or gas grills due to restrictions.
The grill is equipped with a temperature controller that permits you to customize the heat according to your grilling needs, guaranteeing precise cooking results.
The grill has a nonstick finish, which makes it easier to clean and maintain.
The grill is designed with safety in mind. It has a sturdy construction, a secure lid latch, and a spill-resistant drip tray to prevent accidents and spills.
Pricing
At the time of publishing, this electric grill cost:
What We Like/Dislike
Like:
Compact and lightweight design for easy transportation.
Ample cooking area to grill a variety of foods simultaneously.
Conveniently operates using a standard electric outlet.
Dislike:
Some users may find the temperature control options to be limited compared to other grills.
The stand has three preset positions and may not offer the desired height for all users.
Best Budget Outdoor Electric Grill
The Vayepro Outdoor Electric Grill by CUKOR is a convenient and versatile grilling solution. Its large circular grilling surface accommodates over 15 servings, making it perfect for parties and gatherings.
The adjustable temperature control ensures optimal cooking results, while the nonstick surface makes cleaning a breeze.
Whether you're grilling outdoors or indoors, this electric grill delivers delicious meals easily.
Features
The grill offers a 240-square-inch circular grilling surface, providing ample space to cook for many guests or a party.
The temperature probe provides the flexibility to select from various heat settings, ensuring optimal cooking results for various food types.
The grill cover promotes rapid heating and helps distribute heat evenly for consistent cooking. The venting system dissipates heat effectively, keeping your food tender and juicy.
The grill incorporates multiple safety features, including a rotatable venting system. It operates without the need for charcoal or propane, eliminating flare-ups and making grilling safer.
The grill includes a detachable extra warming rack, drip tray, and nonstick grill pan for easy cleaning. These components are dishwasher safe, and the nonstick surfaces can be wiped down for quick cleanup.
The grill has a 30-day money-back guarantee and an 18-month warranty upon registration.
The grill is suitable for outdoor grilling, camping trips, picnics, and indoor use. It offers various cooking options, allowing you to grill steaks, bake pizza, make chicken, bread, and more.
The grill features a durable nonstick coating, reducing the need for added fats or oils and making cooking and cleaning easier.
The warming rack provides additional space for warm food or indirect cooking. It can be easily folded and removed when not in use.
The grill is equipped with a rubber pad at the bottom that prevents scratches on the floor and reduces noise when it is moved.
Pricing
At the time of publishing, this electric grill cost:
What We Like/Dislike
Like:
Generous cooking capacity for large gatherings.
Adjustable temperature control for versatile cooking.
Rapid heating and even cooking performance.
Easy cleaning with detachable parts and a nonstick surface.
This grill is portable and can be used both indoors and outdoors.
Dislike:
Durability of nonstick coating may vary.
Lack of additional features like a built-in thermometer or advanced controls.
Best Style Outdoor Electric Grill
The Costway Electric BBQ Grill provides a convenient and smoke-free way to enjoy delicious barbecues. With 1350W of power, it offers adjustable temperature control for customized grilling.
The grill features a removable tray for collecting grease and a rotatable condiment tray for easy seasoning access.
Its removable stand allows for indoor and outdoor use, making it versatile and practical.
Features
The grill features a modern and stylish design that adds a professional touch to any outdoor cooking setup.
The 240 sq in circular grill plate provides a generous cooking surface for preparing multiple food items at once, making it suitable for hosting gatherings or events.
The grill has a variable temperature controller that offers four settings to adjust the heat precisely, allowing for precise cooking control and achieving professional results.
Including a grease collecting bowl below the surface helps maintain a clean and tidy grilling area, enhancing the professional appearance of the grill.
The 360-degree rotatable condiment tray keeps all your seasonings and sauces within easy reach, promoting a professional and organized cooking experience.
The grill has a removable stand, providing the flexibility to use indoors and outdoors. This feature adds convenience and adaptability to your grilling setup.
Crafted with durable materials such as aluminum plate and ABS, the grill exhibits a sturdy build that gives off a professional and reliable impression.
Pricing
At the time of publishing, this electric grill cost:
What We Like/Dislike
Like:
Generous cooking surface with a circular grill plate.
Variable temperature control for precise cooking.
The grease collecting bowl maintains a clean grilling area.
The rotatable condiment tray keeps seasonings within easy reach.
Dislike
Limited cooking space with the 240 sq in circular grill plate.
Assembly is required, which may be time-consuming or challenging for some users.
Factors to Consider When Choosing The Best Outdoor Electric Grill
When choosing the best outdoor electric grill, there are several factors you should consider to ensure you make the right choice. Here are some essential factors to keep in mind:
Size and Cooking Area
Consider the size of the grill and the available cooking area. Determine how much space you have in your outdoor area and how many people you usually cook for. Having a bigger cooking area will enable you to cook more food simultaneously.
Power and Heat Output
Check the power rating and heat output of the grill. Higher wattage or heat output generally results in faster and more efficient cooking. Search for a grill with adjustable heat settings to control the temperature according to your needs.
Construction and Durability
When searching for a grill, choosing one made from high-quality materials like stainless steel is important. This type of material is durable and resistant to rust and corrosion, ensuring longevity and durability. Also, consider the overall construction and build quality to ensure the grill will withstand outdoor conditions.
Temperature Control
Good temperature control is essential for precise cooking. Look for a grill with accurate temperature controls, preferably with a digital display, to monitor and adjust the heat easily.
Ease of Use and Cleaning
Consider the ease of use and cleaning features. Look for features like a simple ignition system, removable grates, and a drip tray for easy cleaning. Also, check if the grill has any additional features that enhance convenience, such as side shelves or storage space.
Portability
Consider its portability if you plan to move or store the grill frequently. Look for a lightweight, compact design with foldable legs or wheels for easy transportation.
Safety Features
Safety should be a priority when choosing an electric grill. Look for features like an automatic shut-off mechanism, cool-touch handles, and a sturdy base to prevent accidents and ensure safe usage.
Brand Reputation and Reviews
Research and read reviews about different electric grill brands and models. Consider brands with a good reputation for quality and customer satisfaction.
Price and Budget
Set a budget and consider the price range of various electric grills. Compare the features and quality offered by different models within your budget to find the best value for your money.
Warranty and Customer Support
It is advisable to verify the warranty offered by the manufacturer and ensure that customer support is readily available. A good warranty and responsive customer support can give you peace of mind and assistance in case of any issues with the grill.
FAQs
Are electric grills safe to use indoors? 
Certain electric grills are intended for indoor usage, whereas others are appropriate for both indoor and outdoor settings. It's crucial to verify the manufacturer's recommendations before using an electric grill indoors. Ensure proper ventilation and follow any safety precautions mentioned in the product manual.
Can I use wood chips or pellets for smoking on an electric grill? 
Some electric grills have built-in features or attachments for smoking, while others may not. Check the specifications of your grill model to determine if it supports smoking with wood chips or pellets. If it does, follow the manufacturer's guidelines on properly using the smoking feature.
Can I use a regular household electrical outlet for an electric grill? 
Most electric grills are designed to operate on standard household electrical outlets (120V). Before buying a grill, verifying its power needs and ensuring that your electrical socket can handle the load is crucial.
Wrap Up
Outdoor electric grills provide a convenient and efficient way to savor the flavors of outdoor cooking without the inconvenience of managing charcoal or propane.
Through our exploration of various models, it's evident that the best outdoor electric grill is one that combines durability, performance, and versatility. It should provide consistent heat, have ample cooking space, and be easy to clean.
Ultimately, investing in a high-quality outdoor electric grill will enhance your outdoor cooking experience, allowing you to savor delicious grilled meals with family and friends while enjoying the great outdoors.